Summary
There used to be a Kroger store at Broadway and Maiden Lane. Now there are vacant lots. About fifteen years ago, city council created custom zoning regulations for the lots to allow for a development called Broadway Village. The development failed, but the custom zoning regulations are still in effect, which makes it hard for a different developer to build something else on the lots.
City council should rezone the properties to a less restrictive classification. This will create more space for people to live and work in Lower Town. Creating more buildable space throughout the city will decrease the cost of living.
There are empty lots at Maiden Lane and Broadway.
The lots used to contain a Kroger grocery store, a dry cleaner, and a few other businesses. The dry cleaner contaminated the ground underneath it with perchloroethylene, which is a toxic solvent.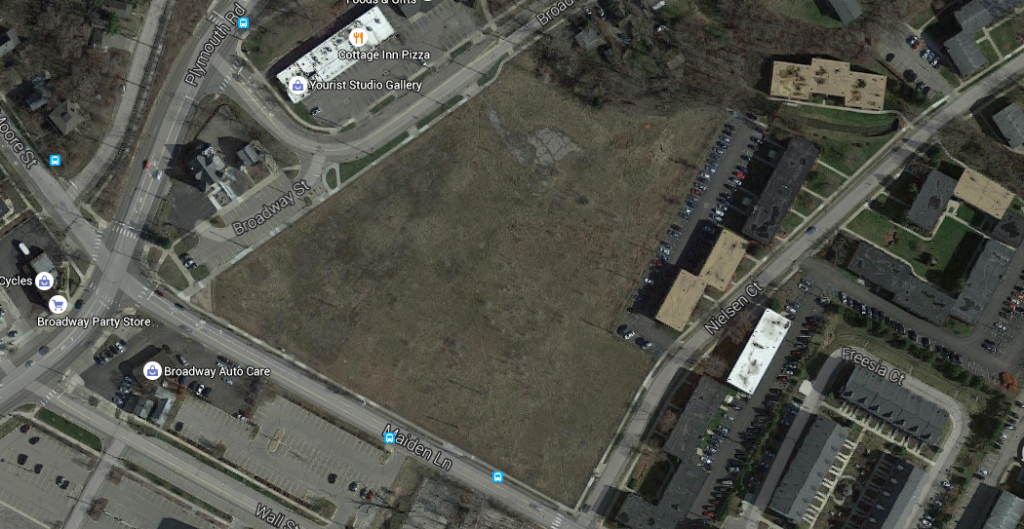 A company planned to build the Broadway Village development on the lots, but never did.
In the early 2000's, A real estate company called Strathmore planned to remove the ground contamination, and then build condos, offices, and stores on the lots. The development was called Broadway village.  It was going to cost $125-210 million, and use tens of millions of dollars of financing from the State of Michigan. Financing fell through in the 2008 recession, and the development was never built. The Ann Arbor Observer has an article describing the history of  Broadway Village.
The PUD zoning regulations for Broadway Village are still in effect.
In 2003, city council approved a Planned Unit Development agreement to make custom zoning rules for Broadway village. The agreement requires seven mid-rise buildings and a parking deck with at least 647 spaces.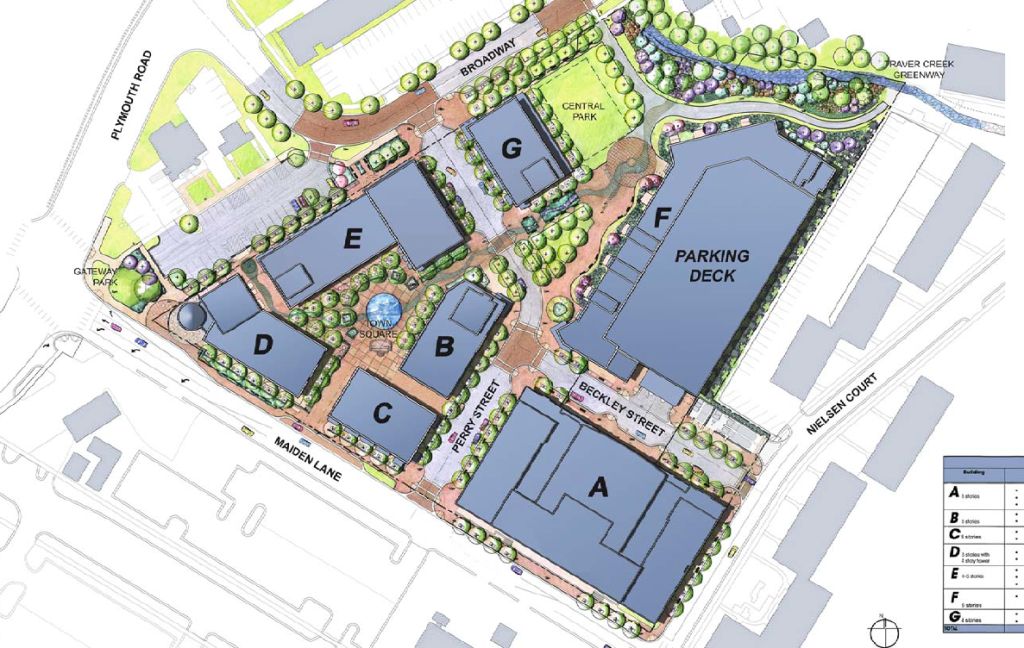 Even though Broadway Village was never built, the PUD zoning regulations are still in effect.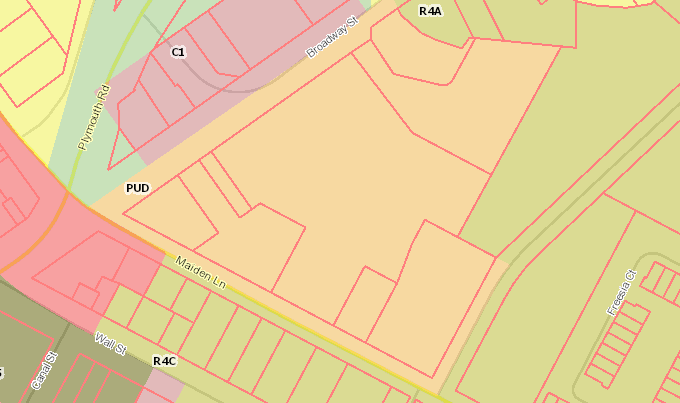 Council should remove the PUD regulations to provide more space for homes and businesses in Lowertown.
Council should rezone the lots to allow for a wider range of developments. It is unreasonable to require the property owner to develop exactly seven buildings and a giant parking deck. There may be many other uses for the lots which are at least as good as the proposed Broadway Village. Requiring a giant parking deck is particularly harmful, because parking minimums increase traffic congestion and cause many other problems. If there were 647 more parking spaces in Lowertown, there would be more people driving on Plymouth Road, Pontiac Trail, and other streets in the area.
To remove the PUD regulations and parking requirements, city council should rezone the property to a different classification. One way to do this would be to create a new zoning district called Buffered Mixed Use. Within this district, tall buildings and stores would be forbidden near residential districts, but allowed far away from them.
Alternatively, the city could just change the PUD requirements so they are less restrictive. However, it would be better for the city to create a Buffered Mixed Use district, because then the same district could be reused in other sites with similar needs.
The restrictions on the lots in Lower Town are related to Ann Arbor's larger zoning problems. The city's zoning code applies strict density controls to much of Ann Arbor, which limits the amount of space for people to live and work. Wealthy individuals and corporations are able to outbid all others for the space that exists. Reforming the city's zoning rules would create more buildable space, which would make Ann Arbor more affordable. Changing the zoning for the Lowertown lots would be one small part of this reform.